HEAT-INSYDE is an Innovation Action (IA) funded by the European Union's Horizon 2020 research and innovation programme. The project brings together 14 industry and research partners over the period from 1 October 2019 to 31 March 2024
Why does the EU support research and innovation in energy? 
Today, energy generation accounts for more than 75% of the EU's greenhouse gas emissions. To reach climate neutrality, there is a need to decarbonise at least 6 times faster than anything realised globally so far. According to the European Commission (EC), we must drastically increase the share of renewable energy sources and clean energy carriers, and improve energy efficiency.  Aiming at tackling the energy challenges, the EC funds research and innovation through a dedicated programme that is renewed every 7 years. Between 2014 and 2020 this was Horizon 2020, under which the HEAT-INSYDE project received its funding. As of 2021 the new programme is named Horizon Europe and includes a specific focus (cluster) for research on climate, energy & mobility. 
Next to that in December 2019, the EC launched the European Green Deal, its strategic plan of policy initiatives and concrete actions to make Europe climate neutral by 2050. Through the European Green Deal, the EC has committed to placing sustainability and the well-being of citizens at the centre of its economic policy. Further decarbonising the energy system is critical to reach the Green Deal goals and its climate objectives for 2030 and 2050. As part of this, the EC has outlined several priorities, including use of smart infrastructure and engage in a building "renovation wave". 
How does HEAT-INSYDE contribute to the EC's priorities for the energy sector?
Our project is pushing to the market a technology for heat storage that is affordable, sustainable and that perfectly integrates with the existing renewable energy resources, such as solar, wind and geothermal.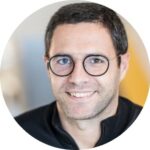 Francesco Pizzocolo
HEAT-INSYDE
Project Manager
With an industry-dominated consortium, HEAT-INSYDE brings together all relevant stakeholder groups in the value chain with the main objective of providing a heat storage solution that can effectively and efficiently help meet Europe's target in the transition to renewable energy systems.
Deliver an affordable, highly compact heat storage solution (< 1 m3) with robust, long term (> 25 years) performance.